Copyright © 1998 Specialized Systems Consultants, Inc.
For information regarding copying and distribution of this material see the Copying License.
---
Table of Contents
July 1998 Issue #30
---
The Answer Guy, by James T. Dennis
CHAOS: CHeap Array of Obsolete Systems, by Alex Vrenios
Clueless at the Prompt, by Mike List
8 Reasons to Make the Switch, by Bill Bennet
Integrated Software Development with WipeOut, by Gerd Mueller
Install New Icons in Caldera's Looking Glass Desktop, by David Nelson
Installing Microsoft & Linux , by Manish P. Pagey
Linux Expo
LinuxCAD Impressions, by Robert Wuest
Book Review: A Methodology for Developing and Deploying Internet & Intranet Solutions, by Jan Rooijackers
New Release Reviews, by Larry Ayers
Portable GUI C++ Libraries, by Sean C. Starkey
Using Linux Instead of an X Emulator, by Al Koscielny
USENIX 1998, by Aaron Mauck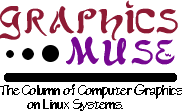 The Graphics Muse Will Return
---
TWDT 1 (text)
TWDT 2 (HTML)
are files containing the entire issue: one in text format, one in HTML. They are provided strictly as a way to save the contents as one file for later printing in the format of your choice; there is no guarantee of working links in the HTML version.
---
Got any great ideas for improvements? Send your comments, criticisms, suggestions and ideas.
---
This page written and maintained by the Editor of Linux Gazette, gazette@linuxgazette.net