Copyright © 1998 Specialized Systems Consultants, Inc.
For information regarding copying and distribution of this material see the Copying License.
---
Table of Contents
October 1998 Issue #33
---
The Answer Guy, by James T. Dennis
CHAOS Part 2: Readying System Software, by Alex Vrenios
Creating a Linux Certification and Training Program, by Dan York
DialMon: The Linux/Windows diald Monitor, by Mike Richardson
The Fifth International Linux Congress, by John Kacur
Fun with Client/Server Computing, by Damir Naden
Gnat and Linux: C++ and Java Under Fire, by Ken O. Burtch
Graphics Muse, by Michael J. Hammel
Heroes and Friends--Linux Comes of Age, by Jim Schweizer
Linux Installation Primer: X Configuration, by Ron Jenkins
New Release Reviews, by Larry Ayers
Mechanical CAD for Linux, by Damir Naden
The Proper Image for Linux, by Randolph Bentson
Serializing Web Application Requests, by Colin C. Wilson
Thoughts about Linux, by Jurgen Defurne
Using the Xbase DBMS in a Linux Environment, by Gary Kunkel
Book Review: Website Automation Toolkit, by Andrew Johnson
The Answer Guy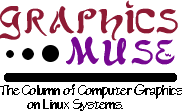 ---
TWDT 1 (text)
TWDT 2 (HTML)
are files containing the entire issue: one in text format, one in HTML. They are provided strictly as a way to save the contents as one file for later printing in the format of your choice; there is no guarantee of working links in the HTML version.
---
Got any great ideas for improvements? Send your comments, criticisms, suggestions and ideas.
---
This page written and maintained by the Editor of Linux Gazette, gazette@linuxgazette.net