Copyright © 1998 Specialized Systems Consultants, Inc.
For information regarding copying and distribution of this material see the Copying License.
---
Table of Contents
September 1998 Issue #32
---
The Answer Guy, by James T. Dennis
A Convenient and Practical Approach to Backing Up Your Data, by Vincent Stemen
Graphics Muse, by Michael J. Hammel
Installing StarOffice 4.0 on Red Hat 5.1, by William Henning
An Interview with Linus Torvalds, by Alessandro Rubini
It Takes Its Toll, by Martin Vermeer
Java and Linux, by Shay Rojansky
Linux Installation Primer, by Ron Jenkins
Linux Kernel Compilation Benchmark, by William Henning
Linux Kernel Installation, by David A. Bandel
New Release Reviews, by Larry Ayers
Open Source Developer Day, by Phil Hughes
Paradigm Shift, by Joe Barr
Running Remote X Sessions on Windows 95/98/NT/Mac/PPC Clients, by Ron Jenkins
Searching a Web Site with Linux, by Branden Williams
The Standard C Library for Linux, Part 3, by James M. Rogers
The Answer Guy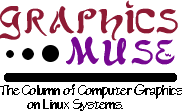 ---
TWDT 1 (text)
TWDT 2 (HTML)
are files containing the entire issue: one in text format, one in HTML. They are provided strictly as a way to save the contents as one file for later printing in the format of your choice; there is no guarantee of working links in the HTML version.
---
Got any great ideas for improvements? Send your comments, criticisms, suggestions and ideas.
---
This page written and maintained by the Editor of Linux Gazette, gazette@linuxgazette.net