Copyright © 1998 Specialized Systems Consultants, Inc.
For information regarding copying and distribution of this material see the Copying License.
---
Table of Contents
August 1998 Issue #31
---
The Answer Guy, by James T. Dennis
Betting on Darwin, Part 2, by Doc Searls
Copying Red Hat Legalities, by Eric Canal
EMACSulation, by Eric Marsden
The Future of Linux, by Greg Roelofs
Graphics Muse, by Michael J. Hammel
The Great Linux Revolt of 1998, by Chris Dibona
How I got my Adaptec AVA 1502 SCSI card to work with Linux and Sane, by James M. Rogers
New Release Reviews, by Larry Ayers
Open Source's First Six Months by Eric Raymond
Personal Linux/Alpha System: 64 bits for Under $500 by Russell C. Pavlicek
Product Review: The Roxen Challenger Web Server, by Michael Pelletier
Selecting a Linux Distribution, by Phil Hughes
Some History and Other Things, by Marjorie Richardson
The Standard C Library for Linux, Part Two, by James M. Rogers
The Answer Guy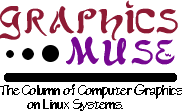 ---
TWDT 1 (text)
TWDT 2 (HTML)
are files containing the entire issue: one in text format, one in HTML. They are provided strictly as a way to save the contents as one file for later printing in the format of your choice; there is no guarantee of working links in the HTML version.
---
Got any great ideas for improvements? Send your comments, criticisms, suggestions and ideas.
---
This page written and maintained by the Editor of Linux Gazette, gazette@linuxgazette.net